Flange instructions
1.Stub End
A Stub End always will be used with a Lap Joint flange, as a backing flange.
This flange connections are applied, in low-pressure and non critical applications, and is a cheap method of flange.
In a stainless steel pipe system, for example, a carbon steel flange can be applied, because they are not come in contact with the product in the pipe.
Stub Ends are available in almost all pipe diameters. Dimensions and dimensional tolerances are defined in the ASME B.16.9 standard. Light-weight corrosion resistant Stub Ends (fittings) are defined in MSS SP43.
LAP JOINT FLANGE WITH A STUB END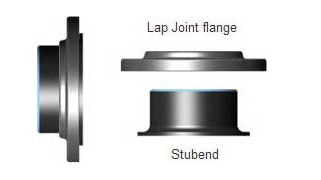 Threaded Flanges are used for special circumstances with their main advantage being that they can be attached to the pipe without welding. Sometimes a seal weld is also used in conjunction with the threaded connection.
Although still available in most sizes and pressure ratings, screwed fittings today are used almost exclusively in smaller pipe sizes.
A threaded flange or fitting is not suitable for a pipe system with thin wall thickness, because cutting thread on a pipe is not possible. Thus, thicker wall thickness must be chosen…what is thicker ?
ASME B31.3 Piping Guide says:
Where steel pipe is threaded and used for steam service above 250 psi or for water service above 100 psi with water temperatures above 220° F, the pipe shall be seamless and have a thickness at least equal to schedule 80 of ASME B36.10.
DETAILS OF THREADED FLANGE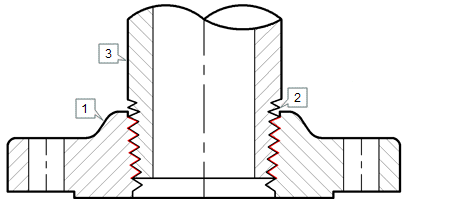 3.Flange instructions
Have you ever seen a Socket Weld contraction ring ?.
It is a split ring that is engineered and designed to give a pre-measured 1/16″ minimum gap for socket welds. Made from a certified stainless steel, and resists corrosion from chemicals, radioactive materials and water. Once inserted into the fitting the ring becomes a permanent part of the joint. It will not rattle or vibrate even under extreme pressure.
Another manner is the applying of in water-soluble board. Make rings with a hole punch with outside and inside diameter of the pipe. Insert the ring into the flange or fitting and after hydrotesting there is no ring anymore.For both solutions, ask your customer for permission.If a Lap Joint flanged connection must be disassembled, for example to replace a gasket, it is not always possible to do that on the conventional manner. The conventional manner is the use of a flange spreader or crowbar that pushed off the two flanges.
By Lap Joint flanges that is not possible, because these slide back over the pipe, while the Stub Ends stay together. To prevent that, often are on 3 places, single millimeters behind the flange, on the Stub End, short pieces flat steel, will be welded.
There is no general rule how a Lap Joint flange must be hold on its place, and therefore it can deviate per customer specification.
4.BUTT WELDS VS FILLET WELDS
In systems with relatively high pressures and temperatures, we need to avoid the use of fillet welds. Butt welds, in such systems must be used. The strength of a butt weld is at least the strength of the base material. The strength of fillet welds related to the strength of the butt weld, is about one third.
At higher pressures and temperatures, the expansion and contraction caused fast for serious cracks in fillet welds and therefore the use of butt welds is essential.
For conduits to critical machinery such as pumps, compressors and turbines, which are exposed to vibration (in addition to the expansion and contraction), we should avoid the use of fillet welds or threaded connections.
Fillet welds have a higher sensitivity to cracks due to stress concentration, while butt welds are characterized by smooth exchange of tensions.
So, for critical situations, we have to use flanges connected by butt welding like as weld neck and ring type joint, and avoid using flanges connected by fillet welds like Slip On or Socket Weld.
5.FLANGE PACKING
Today LANGFANGDINGYANG FLANGE PIPE FITTING CO.,LTD is one of the leading manufacturer and exporters of High hub blind Flanges and supplying to various core industries like. We are exporting flanges to countries like UK, Belgium, Saudi Arabia, Dubai, Singapore, Thailand, etc.
Metal Industries also emphasis on the packaging . The Spectacle Blind Flanges are packed in wooden corrugated boxes foiled in bubble wraps.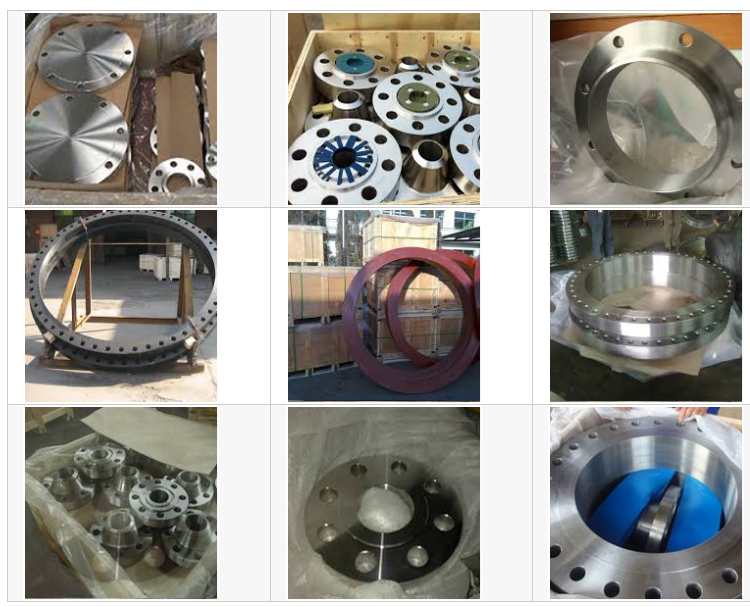 If you need much more information about flange.
Please send me email : info@fittingflange.com.